In this blog we will discuss our thoughts on investing in anticipation of the COVID-19 vaccine given the changes in US stock market performance leadership in the last fortnight, especially the re-emergence and recovery of old economy and value stocks.
Investing in anticipation of the COVID-19 Vaccine is not as simple as it seems
It looks like this is going to be one of the strongest Novembers for the stock market in years – as since November 8th we have seen a strong recovery on old economy names that fared poorly since the COVID -19 outbreak.
Two key reasons for this.
Firstly the market has accepted (and without much fanfare) the results of what had been an orderly, well-run and fair election (at the time of writing efforts to discredit the election results as fraudulent have been ineffective  and have not impressed the judiciary. The transition process will finally begin).
Secondly the announcement that Pfizer and soon thereafter also Moderna, have had success in developing vaccines for the Corona virus, claiming efficacy of 94%. We believe that the second factor is a far more dominant driver of the current post-election market rally.
Please note that until the last month or so, the S&P 500 actually had a negative return apart from a handful of the largest companies (Apple, Amazon, Microsoft, Facebook and Google now make up over 23% of the S&P 500 market cap).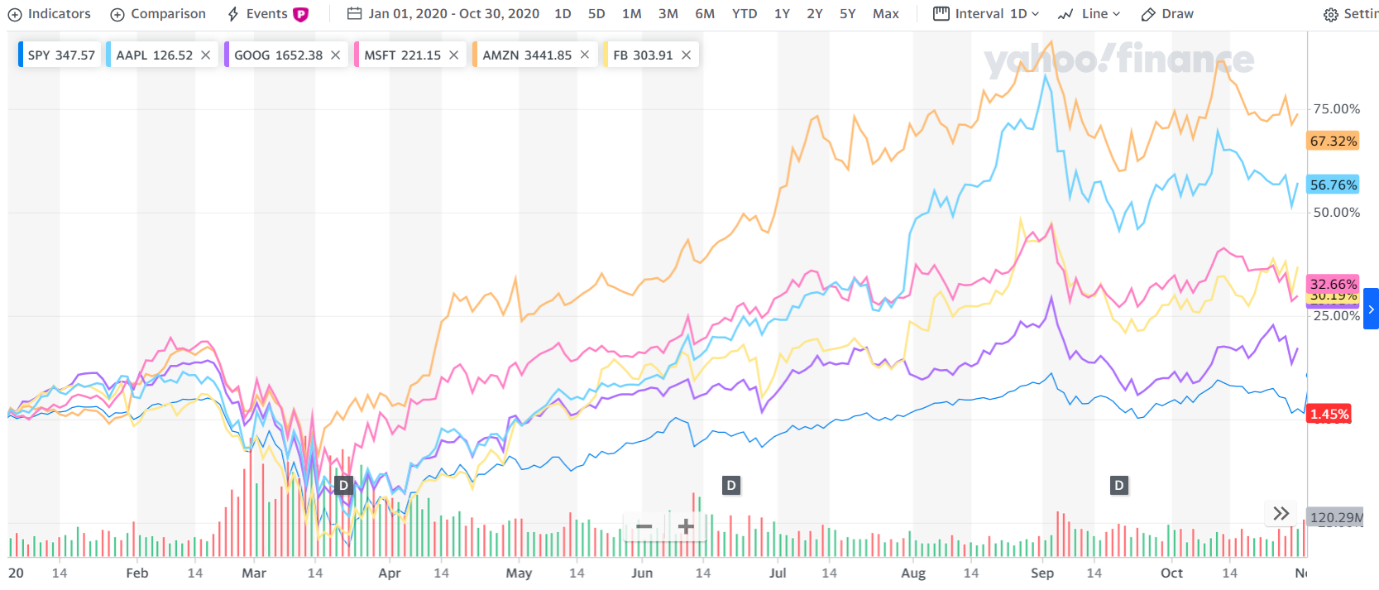 Source: Yahoo Finance, November 19, 2020
This chart, courtesy of Yahoo Finance, show the five largest companies outperformed the SP 500 (the navy blue line) up to 10/31. The chart below show how the index has outperformed the same companies in November (to 11/23)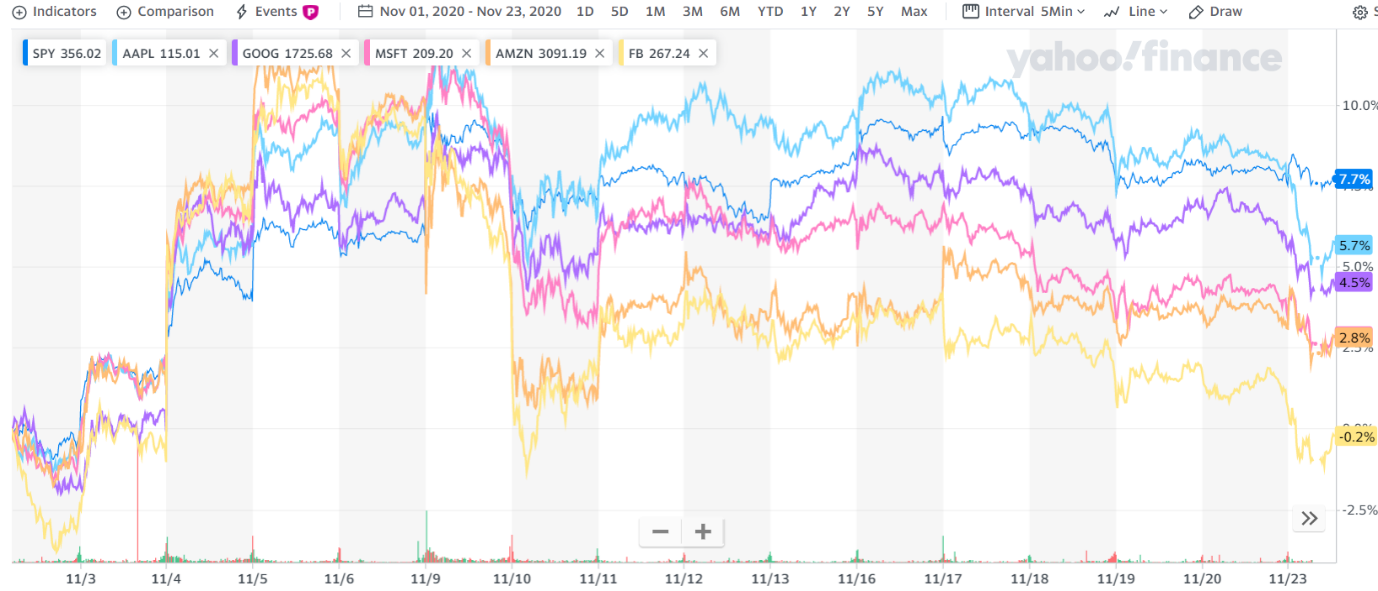 Source: Yahoo Finance, November 19, 2020
Out-of-favor stocks, such as airlines, cruise lines, hotel groups, energy companies and real estate investment trusts rose up to 25% two Mondays ago. Many of these companies are yet to generate sufficient cash flow that would allow for breakeven on an operating basis.
To use a more extreme example, it may be premature to invest in a cruise line stock, before actual cruise vacations return to normal and even before people purchase Alaska or Caribbean vacation packages. CNN reports that the US Centers for Disease Control and Prevention has upped its warning on cruise ships, now advising that "all people avoid travel on cruise ships." The federal agency now classifies cruise travel as "Level 4: Very High Level of COVID-19" and clarifies that this includes river cruises and applies worldwide.
A foot race is occurring now between the successful implementation and administration of the vaccine on a mass basis on the one hand versus time on the other hand. Optimistic assumptions point towards next spring as a time for the vaccines to be widely available. However,  in the meanwhile the number of COVID-19 cases continues to rise in the US – just before the winter season.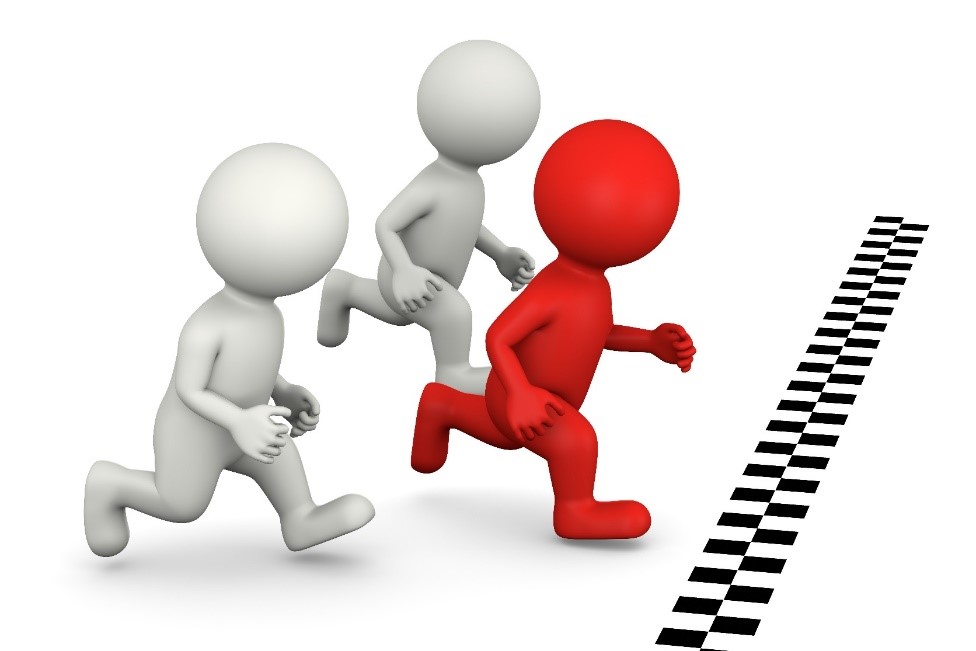 Any delay in implementation will have adverse effects not only on the health of people most importantly, but also on the economy and the markets.  We sincerely hope that the new administration will be able to attain better control of the situation than is currently the case.
Professor Jeremy Siegel, in his weekly WisdomTree commentary, sees the market playing out a battle of the two 'Vs'—the VIRUS, with all news being bad, and the VACCINES, with all news looking very positive. As more positive vaccine news is released, the re-opening stocks and cyclicals receive a booster shot, then virus news turns worse, and the stay at home stocks start performing well again. Professor Siegel thinks this ebb and flow will continue to play out over the coming weeks. (Wisdomtree, 2020)
Possible investment trends after the COVID-19 Vaccine
Should we indeed assume the beginning of a return to normalcy, this does not necessarily mean that stocks and companies that flourished owing to the work, play and study at home phenomenon – are part of a temporary trend that does not have further upside (even as they have lagged the performance of old economy stocks over the last two weeks )
COVID 19 has been an accelerant of digital transformation and we believe this is a strong secular trend that should continue. Even after a successful vaccine allows us to resume normal day to day living, not everything will revert to how things were pre-Corona.
In a recent Barron's article, veteran sell-side tech analyst Steve Milunovich notes that at least half of all workers will not go back to their offices. Milunovich believes that there is still plenty of room for companies to grow that are involved in the Internet of things, artificial intelligence, autonomous driving and related sectors. We also note that e-commerce continues to thrive.
Summary of possible COVID-19 Vaccine Impact on the Stock Market
The following are our key take-aways regarding investing in anticipation of the COVID-19 vaccine.
Firstly, with investor confidence on the rise, it is probably not a good time to speculate. If all goes well then one could make good money on recovering industries and sectors, but it is still difficult to assign with confidence a probability to this occurring.
Secondly, the new market leadership will be more balanced. We believe there is room to explore once again more mature companies that are embracing change.
Thirdly, active management is key now – either on a stock specific or sector level. We believe that one should focus on operating companies that have the financial wherewithal to withstand any financial shock caused by to a delay in the successful administration of the vaccines.
SUBSCRIBE to the Nardis Advisors YouTube channel or ongoing updates related to the markets, economy, and finance for expats.
JOIN our newsletter.
CONTACT US to schedule a time to speak with Nardis Advisors regarding your portfolio and personal financial plan.
Norman H. Chait, CFA Managing Principal, Nardis Advisors LLC, November 25, 2020
Sources
Milunovich, Steven. (16 October, 2020) Barron's. The Biggest Techs Can Get Bigger—and More Profitable. A Veteran Analyst Tells Why. Retrieved from https://www.barrons.com/articles/a-veteran-analyst-on-why-the-biggest-techs-will-get-bigger-51602871471
Siegel, Jeremy J. November 23, 2020. Wisdomtree. Weekly Commentary with Professor Jeremy J. Siegel: The Virus vs. Vaccines.
Disclaimer: Nardis Advisors LLC ("Nardis") is a Registered Investment Advisory Firm regulated by the U.S Securities and Exchange Commission in accordance and compliance with applicable securities laws and regulations. Nardis does not render or offer to render personalized investment advice through this medium. The information provided herein is for informational purposes only and does not constitute financial, investment or legal advice. Investment advice can only be rendered after delivery of the Firm's disclosure statement (Form ADV Part 2) and execution of an investment advisory agreement between the client and Nardis.